SPIES FOR THE POPE
A picaresque spy story of a free thinking philosopher (and his some time lover) recruited by the Vatican for an impossible mission: to prevent the Thirty Years War.
REVIEWS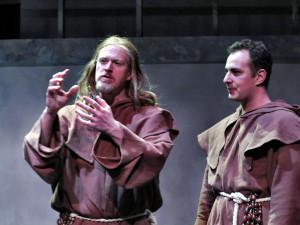 (L) Eric Loscheider as Giulio Cesare Vanini, (R) Jordan Stidham as Brother Marcus.
A highly literate and entertaining world premiere...an entertaining, intellectual piece, priced at a pittance, that offers fine value. -- cordellreports.com
The playwright, Douglas Lackey, is a Professor of Philosophy at Baruch College, CUNY, who has written several other historical plays that he calls "comedies of ideas." I'd like to see more of them. -- Woman Around Town
A well-conceived and beautifully produced slice of history -- New York Theatre Wire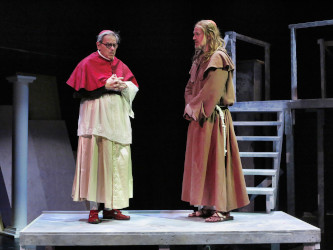 Joseph J. Menino as Pope Paul V, Eric Loscheider as Giulio Cesare Vanini.
---

REVIEWS OF PRIOR PLAYS BY DOUGLAS LACKEY, DIRECTED BY ALEXANDER HARRINGTON
THE WAYWARD DAUGHTER OF JUDAH THE PRINCE, 2021
"This was a clever intellectual and philosophical play that was disguised as an action adventure quest…The acting and production values were superb…You will learn a lot and be entertained at the same time. What more can you ask for?" -- Eva Heinemann, Hi Drama
---

LUDWIG AND BERTIE, 2019



"Lackey is a master at bringing philosophy out of the dusty corners of academia and putting them on a very passion filled center stage. As with his previous works produced at Theater for a New City, 'Daylight Precision' (2014) and 'Arendt;Heidegger: a love story' (2018), "Ludwig and Bertie" is a victory for smart theater." -- Rachel de Aragon, Berkshire Fine Arts
"The play is a remarkable achievement on two levels: on one level, it provides an exhaustive explication of their respective philosophies (which even those most familiar with the concepts underlying analytic philosophy should find informative and educational). And on another level, it also provides an entertaining theatrical experience for those less committed to the nuances of philosophical thought in its explorations of these men's personae." -- Alan Miller, A Seat On The Aisle
"This is a fascinating play with a solid cast. It will leave you pondering the philosophical theories for days." -- Brenda Repland, Eyes on World Cultures.
"Both [Russell and Wittgenstein] are considered major 20th century philosophers; their relationship, from their first meeting in Cambridge in 1911 until Wittgenstein's death in 1951, underwent the human and intellectual turbulence usually encountered between father and son....The juxtaposition of these contradictory personalities promises explosive drama, perhaps more than can be contained in one session of theater....Alexander Bartenieff's subtle lighting design helps to sharpen the attention while the costume design by Anthony Paul-Cavaretta beautifully adds to the personality of a character as well as the shifts of period style in the play....The actors maintain the sharp personality contrasts and manage the dialogue alternating between rather complicated philosophical theorems (in merciful snippets) and private conundrums with persuasive clarity. -- Beate Hein Bennet, New York Theatre Wire.
---
ARENDT-HEIDEGGGER: A LOVE STORY, 2018



"Arendt-Heidegger: A Love Story," though small scenewise, is huge in its character-driven, thought-provoking ideas, many of which, like racism (both genuine and opportunistic), along with the emergence of right-wing autocratic nationalism, like a virus gone wild, appears to be on the rise around the globe. It is a timely play to say the least. -- Edward Rubin, Theatrecriticism.com
This play is mesmerizing in its many now-familiar aspects to our current situation. The casting is perfect, making the story ever so plausible. " --- Brenda Repland, Eyes on World Cultures
"Our highest recommendation! A thoroughly enthralling drama of ideas, romance, and politics – worthy of the great tradition of Shaw and Ibsen. This show will engage your heart and your mind at the deepest levels." -- Ronald Gross, NY Theatre Buying Guide
"Author Douglas Lackey and director Alexander Harrington have managed to extract a thought provoking stimulating performance from two of the most controversial public intellects of the twentieth century: Hannah Arendt (1906-1975), a German-Jewish philosopher and social theorist and Martin Heidegger (1889-1976), one of the most renowned German philosophers to have succumbed to Nazism. The subject of their romantic entanglement, in conjunction with their political trajectories over the course of forty years, from the mid 1920s to 1964, is the dramatic core of this play in a series of 23 concisely scripted scenes." --- Beate Hein Bennett, NY Theatre Wire
---
DAYLIGHT PRECISION, 2014



"sweeps us back to an all but forgotten World War II and its tangle of moral questions that still won't go away" – Jerry Tallmer, NY Theatre Wire
"Lackey's play and the direction by Alexander Harrington and fine work by the ensemble cast allow [General Haywood] Hansell to soar back in command as we appreciate his efforts and are reminded that bombing women and children serves no rational military purpose." -- Carole Di Tosti, NYC Skyline
"In light of today's stealth and drone bombings in the middle east, the play is a meditation on the value, or lack thereof, of collateral damage in war….One walks away from the experience feeling more intimately involved in the day-to-day anxieties of the war, from which there is now so much distance, and extremely grateful for not having had to been involved."--JK Clarke, Theatre Pizzazz
---


November 9 - 26, 2023
Theater for the New City, 155 First Ave.
Thu, Fri, Sat at 8:00 PM, Sun at 3:00 PM
No performance Thanksgiving, Nov 23.
Added show Wed, Nov 22 at 8:00 PM.
Tickets $18; students and seniors $15
www.theaterforthenewcity.net
212-254-1109
Running time: 2 hours
*-appears courtesy of Actors Equity Association